I memorized this table and wrote it out on my noteboard during the test. It makes it easy to pick out which test without much mental effort
Type of Data
2 Independent Samples
Related or Paired Samples
3 or More Independent Samples
3 or More Related Samples
Measures of Correlation
Nominal
Example: male/female, yes/no, dead/alive
Chi-Square Fisher's Exact (for small samples)
McNemar test
Chi-Square for K-independent t-samples
Cochran Q
contingency coefficient
Ordinal
Example: Class I, II, II Heart failure
Mann Whitney U Willcoxen Rank Sum
Sign test Willcoxen Signed Rank
Kruskal Wallis one way ANOVA
Friedman 2 way ANOVA
Spearman Kendall rank Kendell COE
Continuous (aka "parametric")
Example: temperature, heart rate, blood pressure
Student T-test Mann Whitney U (only if parametric with outliers)
Paired t-test
1-way ANOVA
2-way ANOVA
Pearson correlation
Study Type Strength or Weakness:
They may ask what kind of study would you use for X problem.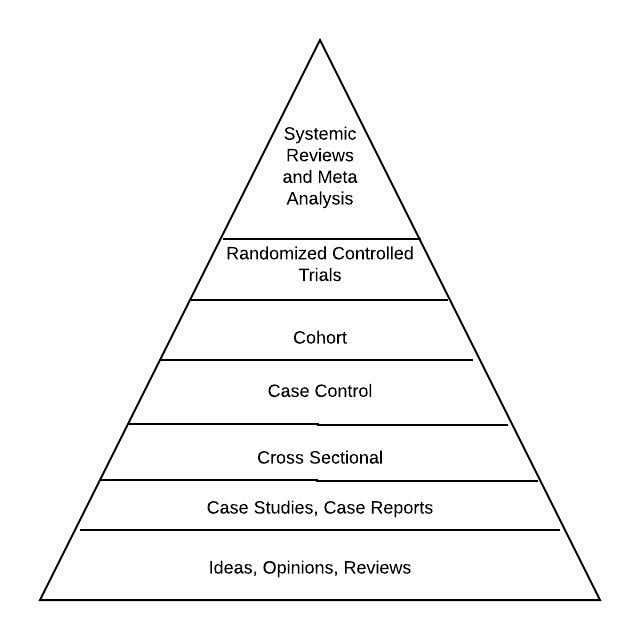 *Top is the highest quality, the bottom is the least
Cohort and cross-sectional studies are usually prospective, case-control and case-report are usually retrospective.
Cohort studies are best suited determining the association between exposures/factors and diseases/conditions (prospective. You follow a cohort and see if they get the disease).
Case-control studies are best to determine the association between a rare event and a potential cause (retrospective. You see the rare event and work backward because the event is too rare to find in enough numbers in a random cohort).
Cross-sectional studies are data collected from a population, or subset, at one specific point in time.
Survival analysis – time to an event, not just death or MI, etc. Can be anything. Kaplan Meir curves estimate the percentage of people saved per time
Is it Intention to Treat or Per Protocol?
Intention to treat: Analyze data from all randomized patients, regardless of the completion of the trial. This increases external validity (is this applicable to the real world)
Per-protocol: This increase internal validity (is this a well-done study for whatever the hypothesis is). Only count those who followed the trial to completion. This reflects the actual treatment, not real-world results.