There have been a lot of questions about the COVID-19 mRNA vaccines. I thought I would put together an easy FAQ with some referenced answers. I'll keep adding to it as I get more questions. I have a FAQ about the Johnson and Johnson vaccine too.
Is it Going to Alter my DNA?
If you remember your basic science classes, you remember that genes on DNA are transcribed to mRNA. mRNA is read by the ribosomes in cells and translated into proteins. Proteins do a lot of the work in our bodies. Enzymes, carrier proteins, hormones, cell structures, and more are all made of proteins. Antibodies are too.
mRNA is basically just a recipe card on how to make these proteins. It doesn't change our DNA at all, it just says "make this." This is a basic course with some nice diagrams. My explanation is pretty simplified.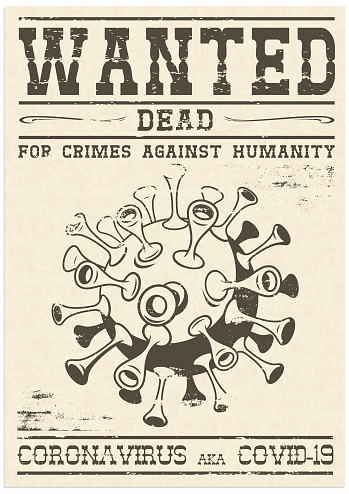 The two EUA COVID-19 mRNA vaccines produced by Pfizer and Moderna have a piece of mRNA that tells our cells to build part of a protein called the spike protein that's found on the surface of SARS-CoV-2. Why would we want to do that?
Our immune system sees foreign invaders, like viruses, and activates to get rid of them. However, for a new invader, it usually takes some time before the immune system recognizes it. It's like when a stranger moves in down the street. You don't even really notice him much until he crashes a car through your fence or throws a huge party and invites all his friends to your pool.
Viruses and bacteria have all kinds of ways they can lay low to get around the immune system. Once the immune system ramps up, there are sometimes too many bad guys to fight. It would be nice if we could give the immune system a heads up. When we meet "bad guys," our immune system makes antibodies, B-cells, T-cells, and other immune cells that are ready to get rid of them if they ever show up again. What we want to do is supply our immune system with a "Most Wanted" poster with the virus's likeness so it knows that this guy is bad before he settles in. We want it to have a head start to make those cells that are ready to get rid of the bad guys if they show up. This article from Nature has a nice graphic about immune cells and SARS-CoV-2.
The mRNA vaccines tell our bodies to produce parts of a protein found on the surface of SARS-CoV-2 as kind of a wanted poster. They're saying "See this protein? We don't want it around." If we ever get infected, we know right away that this guy is bad news and we'll be ready for him when he comes into town. We only need the poster. We don't need to get in a fight with him first. We can get ready for him without all the nasty side effects of getting exposed to the real disease. Our immune cells see the protein, recognize that it's bad, and get ready to fight if it ever shows up.
The spike protein is, as far as we know, perfectly safe for us, unlike the virus itself. It's just a protein. It doesn't really do anything on its own, but it's unique to SARS-CoV-2.
How Does it Know When to Stop?
This is a question that I've been getting a lot. If I get this vaccine, will the mRNA be telling my cells to produce this spike protein forever? If so, what are the long term effects of that?
mRNA is relatively fragile. It doesn't last long. This mRNA doesn't replicate and, as mentioned above, it doesn't integrate into the DNA. It's just a recipe. That recipe card will disappear within days (usually around 72 hours). Here's a decent paper about the stability and development of mRNA vaccines. Once it's gone, the cells won't remember how to make the spike protein anymore. We don't need the cells to keep making spike anyway. Remember, we just want our immune to see it and recognize it.
We think mRNA vaccines are probably going to be safer than our standard vaccines because they don't need traditional adjuvants, they aren't made in eggs or anything like that, and they don't contain many of the preservatives that might cause a reaction. They're also really flexible because almost any protein can be encoded on mRNA.
That being said, they usually require some sort of complexing agent, which might be the reason some people have strong allergic reactions to them (scientists don't think it is just yet, but it's worth pointing out). In order to work, the mRNA has to get inside the cell. These agents help enhance the uptake of the mRNA into cells so the mRNA can be translated.
There's a rumor that the spike protein is the same protein and syncytin-1, found in the placenta. It is not. They share a few amino acids, but they are different proteins. This is a pretty good debunking of that. If that were true, however, we would expect natural infection with coronavirus to be devasting to fertility too, because you're going to make antibodies to spike once you're naturally infected.
Can I Get COVID From the Vaccine or Will I Test Positive on a COVID Test?
Since this vaccine just uses a tiny piece of mRNA that encodes for a protein, you cannot get the virus from the vaccine nor will you test positive on a RT-PCR or a rapid antigen test. This vaccine only encodes for a small portion of the spike protein. It doesn't even contain the virus. The virus has lots of other proteins and antigens and those are what these rapid tests and PCRs look for, not just this tiny spike region. You will not test positive on a COVID test as your body has never seen these other antigens.
If a test was using spike as a marker, you would test positive, but none of the commercial SARS-CoV-2 assays use the spike protein as a marker (in the USA at least, I didn't look at the international ones, but I haven't heard of one).

That being said, the incubation period of SARS-CoV-2 is about 7-14 days and it takes about 14 days for the vaccines to confer any protection. You can be exposed and get sick before your vaccine kicks in. You could be exposed 13 days before you get your vaccine and get sick the next day, or you could have been exposed the day before you got your vaccine and get sick 10 days after. That's unfortunate timing, but it has happened (and it's a real risk since community spread is so high).
There are some "flu-like" side effects of the vaccine that are not COVID. They are your body's immune response. These vaccines seem to produce more of a robust immune response than some traditional vaccines, making some people feel a little down for a day or two. That's what our immune system does when it's ramping up. Fever, chills, that nauseous feeling you have: those are all ways our immune system fights the bad guys. You're not getting that because you have COVID, but because the immune system is activating. For most people, it only lasts a day or two.
Will I Test Positive on an Antibody Test?
You hope that you will test positive on a COVID antibody test. That's what we want. However, these tests also look for different antibodies. Most of the ones I've seen look for antibodies to the spike protein and our hope is that you will test positive on those after vaccination. That means you're making antibodies to spike. Yay! Your cells listened to the vaccine.
A few commercial tests look for antibodies to the nucleocapsid. You will never test positive on those if you've only been vaccinated and not exposed to the original virus. Remember, your body only knows the spike protein. There is a whole lot of virus it's never seen. That doesn't mean you're not covered though. The real virus will have spike protein on it. If you see a negative antibody test and you were vaccinated between 14 and 90 days ago, ask which specific antibodies the test is looking for (you may have to look to the manufacturer, because the test giver may not know). Here's a list of FDA approved antibody tests and which antibodies they are looking for. Most of the nucleocapsid tests also look for spike, so I don't think it's a big concern.
A bigger concern is that these antibodies wane. I tested positive for IgG in January. If I get another test in September, it will likely be negative (maybe not – we're not sure, but I'm predicting it will be). Should I worry? Not necessarily. My immune memory cells are still on my team. Our hope is that they remember that they know spike and he's a bad guy, even my antibodies don't, and they're ready to make new spike antibodies quickly (see a link above for information on immune memory and SARS-CoV-2).
What Else is in These Vaccines?
These vaccines actually don't have a lot of ingredients and they can be broken down into three main categories. Aside from the different lipids and buffers, the portion of the spike protein sampled is different in each vaccine.
Complexing Agent: Helps the mRNA get into cells. They're all big words, but they're just fats.
Genetic Material: Our recipe for a portion of the spike protein.
Buffer: Helps to make the solution close to the pH of humans so it doesn't hurt as much.
The Pfizer-BioNTech COVID-19 Vaccine includes the following ingredients:
Complexing Agent: lipids ((4-hydroxybutyl)azanediyl)bis(hexane-6,1-diyl)bis(2-hexyldecanoate), 2 [(polyethylene glycol)-2000]-N,N-ditetradecylacetamide, 1,2-Distearoyl-sn-glycero-3- phosphocholine, and cholesterol)
Genetic Material: mRNA
Buffer: potassium chloride, monobasic potassium phosphate, sodium chloride, dibasic sodium phosphate dihydrate, and sucrose.
The Moderna COVID-19 Vaccine contains the following ingredients:
Complexing Agent: lipids (SM-102, polyethylene glycol [PEG] 2000 dimyristoyl glycerol [DMG], cholesterol, and 1,2-distearoyl-sn-glycero-3-phosphocholine [DSPC])
Genetic Material: messenger ribonucleic acid (mRNA)
Buffer: tromethamine, tromethamine hydrochloride, acetic acid, sodium acetate, and sucrose
Don't Vaccines Take Decades to Make? How Was This One So Fast?
It's true that most vaccines take decades to make, but there are several reasons why this vaccine was quicker.
SARS-1 and MERs: Scientists did a lot of work with SARS-1 and MERs before this coronavirus ever erupted. These outbreaks were similar viruses, but not really pandemic potential viruses. Scientists also had researched other coronaviruses before (look at "Isolation and characterization of a bat SARS-like coronavirus that uses the ACE2 receptor" from 2013) and knew the spike protein was probably a good target.
Previous mRNA Vaccine Study: Vaccinologits have been trying to perfect mRNA vaccines for a while. They've found ways to overcome several initial problems. mRNA itself can be very immunogenic upon initial doses, but they've fixed most of those issues. Immune cells want to get rid of foreign mRNA just as much as they want to get rid of viruses. They've figured that out. They've figured out how to get the mRNA into the cells and to turn on translation. All of that was done before we even know about SARS-CoV-2. Several mRNA vaccines have been in human trials for years, but they've never reached significance.
Worldwide Interest: mRNA vaccines have been in the pipeline for quite a while (Moderna was founded in 2010). If you look at the drug's in Moderna's Pipeline and on Clinicaltrials.gov, the biggest problem seems to be sample size. It's hard to prove something is working if you only have 100 participants. A lot of the diseases that mRNA vaccines have been studied for are things like ebola, zika, and certain cancers. There really isn't a huge population size for these diseases. There haven't been safety issues, as much as there have been significance issues. For SARS-CoV-2, the entire world was filled with people who wanted to be in the trail. They recruited tens of thousands of people for both of these trials within months. That's usually not the case. It's a lot easier to prove significance in 10,000 people than 100. These vaccines were studied in more people than the Shingrix phase 3 trials (that's the shingles vaccine).
Lots of Dollars: With worldwide significance comes worldwide funding. Many countries pitched in money to help research. Usually, companies have to wait for proof of concept before they get more funding to go on to the next step (here are the steps of drug development). This time, companies and governments (even celebrities) said, "Just do it all." Instead of having to present data in front of a review board or grant committee to get approval to move from phase to phase, or to start manufacturing, they just did it all at the same time (more or less, there are some things you can't do at the same time).
mRNA Vaccines Are Quick to Produce: It also helps that mRNA vaccines are relatively quick to produce. Vaccines like influenza have to grow. For the egg-based vaccines, they figure out which strains of flu they want to be in the vaccine this year, and inject those into fertilized chicken eggs. Those eggs are incubated for several days to allow the viruses to replicate. The fluid containing virus is harvested from the eggs. Those viruses then have to be inactivated and purified to make the shot. That's a pretty long process. mRNA can be made in huge batches in a lab. Small changes can be made to the vaccines without much effort or downtime. This is actually revolutionary and will probably change future vaccines.
What About the Long Term Effects
To be honest, we can't truly say what the long term effects of this vaccine will be. We can say that most vaccine-related reactions happen within 28 days, and we haven't seen many. We can say that some trial participants got pregnant with no issues. We don't see why there would be further issues. We can't say 100% that there won't be. That's true at the end of any Phase 3 trial (remember the steps of drug development). We see more adverse reactions when drugs are released to the general population because we're all different. We all have different immune systems, drugs, chronic conditions, genes, etc. It takes millions of people before you reach a point where you can say you probably have seen every combination of people to really classify the rarity of reactions.
I've heard people say that mRNA technology is brand new and just developed for this pandemic. That's not true. We have had human trials of mRNA vaccines since 2008 and seen no significant signals of safety concerns (I linked some of Moderna's trials and pipeline drugs previously). That is promising, but these studies have been small, so we could see some adverse effects in a population this large. I don't think anyone is bold enough to say that's not a possibility, just that it's not a probability that there will be widespread harm or serious adverse effects. This is a really good review article about some of the early problems with mRNA vaccines and the history of them, also their safety now that some of those issues have been overcome. The graphic below comes from that article.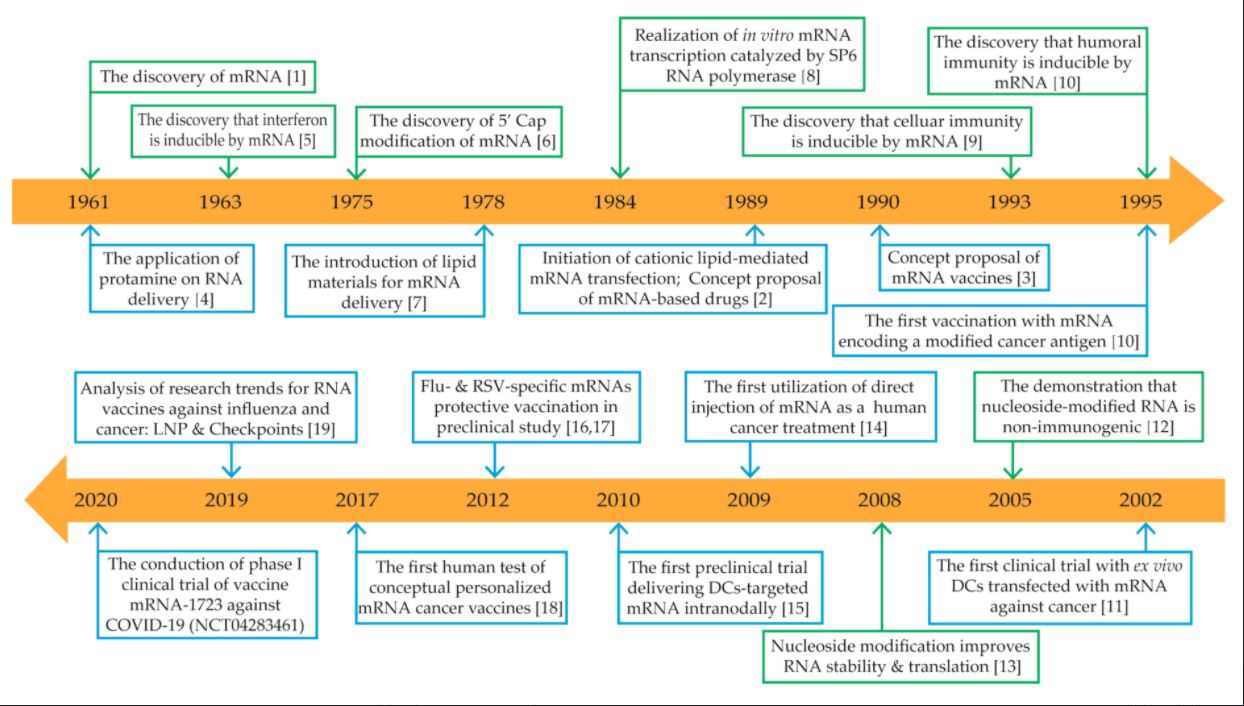 To the best of our knowledge, these vaccines appear safe and effective. That's all we can ever say. I've had patients who had severe adverse effects to drugs that have been out forever. We can't always figure out why or what caused it. We're all different. This is a novel vaccine delivery system that's been studied a lot, but never had its prime time moment until now. We can't know with 100% confidence that they're absolutely safe.
What we do know are the effects of SARS-CoV-2. Those on the front lines have seen patients with amputations, chronic fatigue, clots, stroke, and continuing joint and back pain. We've also seen lots of people die. All of medicine is a benefit vs risk equation. I think for most of us, the benefits outweigh the small risk, but that's a personal decision between you and your healthcare providers.
I respect if someone wants to wait until next year, as long as you're also wearing your mask, keeping your distance, isolating, and not hosting parties. However if anyone asks me, I absolutely recommend getting the vaccine and I got one myself, despite being relatively low risk of serious disease.
Why Should I Care About a Disease that 95% of People Recover From
The recovery rate of COVID-19 is often exaggerated because we hear that "only" 5% of die. If we look at just this statistic, the vaccine would have to have killed a lot of people already to be as deadly (it hasn't killed any*). That being said, death is not the only bad outcome of COVID-19. One in 11 severe patients who recover end up in the hospital multiple times after discharge. Patients have strokes, emboli, amputations, kidney and heart problems, etc.
Even in relatively mild cases, not requiring hospitalization, the CDC reports that 1 in 5 previously healthy adults will have symptoms from headache, fatigue, loss of taste and smell, nausea, fever, chills, congestion, shortness of breath, and chest pain for more than 14 days. That's a lot of affected people. We aren't 100% sure of the full impact of those "long COVID" patients the future of our healthcare system or the long-term impact on these patients' lives. One small study showed that 46% of college athletes had some heart damage after a SARS-CoV-2 infection that did not require hospitalization. The study was only 26 students, but it's still something to think about for those of us who aren't young, competitive athletes. Out of 26, 12 had cardiovascular changes consistent with myocardial injury, though we don't know what that means for their long term health.
The vaccine would have to have some pretty serious long term effects, which we haven't seen, to make the risks outweigh the benefits.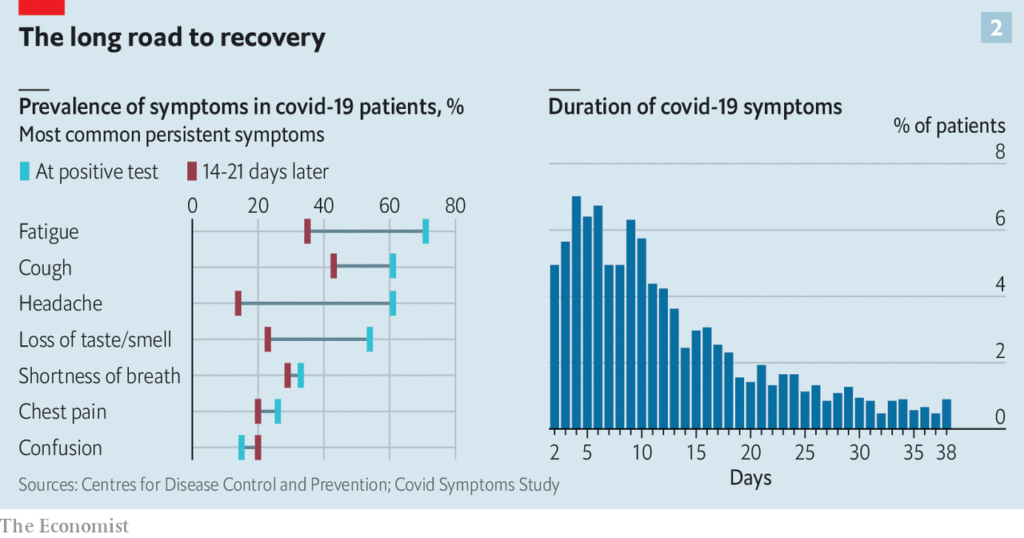 *Covid Vaccine Deaths? Not really.

There were actually six deaths reported in the Pfizer trial. People die during trials sometimes. Only two of these people were given the vaccine. The other four were given a placebo. They found no causal relationship between the vaccine and the two deaths. One of the vaccine recipients had a cardiac arrest 62 days after a second dose of the two-dose vaccination and died three days later. The other died from arteriosclerosis three days after a first dose of the vaccination.
I should also mention the 23 nursing home patients that died after they got the vaccine in Norway. That's the part of the story you see on social media. It doesn't mention that those patients were frail and elderly, and already sick (many had terminal illnesses.) When you vaccinate a population of frail, elderly people, some will die. Most would have died anyway. Norwegian officials report that 15 nursing patients die each day and these 23 patients don't represent any excess deaths, but it has caused officials to question whether or not frail patients should get the vaccine.

There is also an Auburn nursing home that has been referenced on social media. They had a COVID outbreak that killed 24 people as they were vaccinating, but social media says "24 COVID deaths after the vaccine was administered." The nursing home had a COVID-19 case confirmed on December 21 and began vaccinating on December 22. In the next two weeks, 24 residents died of COVID-19. That's not surprising as COVID spreads fast in nursing homes, the patients had not been vaccinated for long enough to build up immunity, and had only received one shot. It's unfortunate timing though.
Finally, an MD died of acute immune thrombocytopenia after receiving the COVID-19 vaccine. Acute immune thrombocytopenia is extremely rare and is usually either of unknown origin or triggered by an infection, but it can theoretically be a reaction to any vaccine. It's most common in MMR and only 1 in 25,000 children are affected. It's usually mild, goes away on its own, and treatable if it does not. It was not treatable in Dr. Micheals's case, which is really unfortunate, but it's hard to say definitively the vaccine was the cause. It's hard to say it's not. This is something to look out for as the population vaccinated increases. So far, it's one out over 16 million people vaccinated.
Once I Get the Vaccine, Can I Take Off My Mask
No.
I wrote about sterilizing immunity (which is immunity from being infected and spreading infection) in an earlier post. Neither of these vaccines seems to provide it. They provide excellent protection against getting sick. That means you could still get infected and still spread it. That's pretty common in vaccines. Many vaccines decreases transmission, but are not 100% sterilizing (Rotavirus, Conjugate Pneumococcal, Pertussis Influenza, etc. do not). The live polio vaccine is actually pretty famous for vaccine-derived poliovirus outbreaks. Sterilizing immunity happens most often in diseases with a longer incubation period (like HPV). That wouldn't happen here, the SARS-CoV-2 vaccine doesn't contain virus. What could happen is that a person who is vaccinated gets exposed and infected, but doesn't feel bad. They go around without their mask. They're spreading it everywhere without knowing it.
Moderna actually swabbed trial participants after the first dose and it looks like the transmission is blocked a little (not 100%) and they plan to do more studies to see if it actually does block transmission significantly. Even a little bit would help, and that's why most vaccines, even though they only reduce transmission and don't stop it completely, are pretty effective at slowing outbreaks.

If the majority of the population is vaccinated, transmission doesn't matter as much. That won't happen for a while. It's also not as important if community spread is lower, because your chances of exposure are lower to begin with. Low community exposure probably won't happen for a while either.
Another more self-serving point is that vaccines are never 100% effective. Pfizer and Moderna are both reported to be around 95% effective. The problem is that you don't know if you'll be in that 5%. With cases so high, it's not worth the risk to yourself.
We'll probably be masking until at least mid-2021, maybe longer.
How long will the vaccine last?
We don't know how long vaccine-mediated immunity will last. We think at least six months, but probably longer. Despite media hyperbole, SARS-CoV-2 doesn't mutate that quickly in any clinically meaningful way. One of the reasons why coronaviruses are so successful is that they have built-in proofreading that fixes mutations. That being said, mutations that favor spread or infectivity are very possible. It was probably a mutation that caused it to jump to humans afterall. Spike, however, seems to be fairly stable, even with the few point mutations we've seen in it so far. That could also change.
It's often reported that antibodies last for 5-7 months, but memory B and T cells can last for much longer than antibodies. You expect antibodies to fall off after infections, but those other immune cells remember spike too. Will these other immune cells protect us? For how long? We don't know. We suspect at least a year, probably more.
People also ask about reinfections. We hear about them in the media. Even in infections that typically produce good immunity, you expect that immunity will fail some people. Let's just pretend a natural infection and a vaccine both produce immunity in 95% of people for three years. That leaves 5% of people who are open to reinfection. From most of the data I've seen, we're not getting a large number of reinfections yet. We can't say for sure that it's not just those expected immune failures, especially with community exposure being so high. We may see more reinfections though. It's only been a year.
It's expected that vaccine mediated immunity will last longer than natural infection, but again we're not sure.
Which one should I get?
The data looks so similar for Pfizer and Moderna that I would take either one. I personally took Pfizer, because that is what we had. I think Moderna's trial design was better, but they got more or less the same results as Pfizer.
Pfizer has more to lose if this goes bad. They are worth $221 billion, while Moderna went from $6.6 billion to $20 billion over the last year. I think I would probably be skeptical that Moderna's data was so great if Pfizer wasn't here to back them up. However, the data is so similar, I think they're both good choices.
One important note is the that the spike portion is different in these vaccines, so if you get the Pfizer vaccine for your shot, you need the Pfizer vaccine for shot 2 and vice versa. With current data, you shouldn't mix and match.
Why did the government grant Pfizer and Moderna immunity from claims?
The PREP act does give these companies unique immunity against lawsuits for the next four years. That means that for the next four years, these companies "cannot be sued for money damages in court" over injuries related to the administration or use of products to treat or protect against COVID as long as they weren't acting with "willful ignorance."
To me, this makes sense. I actually think it should be applied to most drugs. Companies should not be sued for acting within the best interest of the public with the best information they have available and the information required for FDA approval. Companies should absolutely be sued if they hide or refuse to collect and report data that would look bad for them. Some people may disagree, but frivolous drug lawsuits are raising prescription prices in the USA and making care and novel drug development harder. If Pfizer and Moderna had to account for frivolous lawsuits, the cost of vaccination would likely be higher and this public health crisis would likely last a lot longer.
This is purely my opinion, but I think these frivolous lawsuits (not just for vaccines) encourage bad behavior in companies. If I'm a drug company and I notice my newly approved drug is causing some bad side effect in 0.1% of patients, I think I might be more willing to overlook that if I knew I would see it in some drug injury lawyer commercial. If I don't have any liability, I might be more apt to look into it further, especially if my immunity would disappear if I were guilty of "willful ignorance." There would be no downside to admitting adverse effects.

In this case, the government asked companies to speed up their process so that they have less trial data to back them up in court. They are afraid that people will bring up frivolous lawsuits against them that they won't have the data to rebuke. The PREP act also set up a countermeasures compensation program for COVID-19. There are some criticisms of this program, including that it doesn't pay enough, but it is available.
If this vaccine did hurt people, even without willful ignorance, it would be a PR nightmare for both of these companies. Pfizer would be forever connected to the bad COVID vaccine. No one would trust it's multi-billion dollar brand again. A doctor prescribes you a new Pfizer product and you'll say, "Isn't this that COVID vaccine company? No thanks." Moderna would likely completely go under.

As I mentioned above, they have a lot to lose. They obviously trust the vaccine or they wouldn't have associated their name so closely with it. Pfizer has more to lose than to gain in my opinion, but you make your own choice.
I read one shot is 50% effective. What does that mean? Can I just get one shot?
When we talk about "effectiveness" in vaccines, we're talking about how effective the vaccine is at preventing disease. Vaccine efficacy is the percentage reduction of disease in a vaccinated group of people compared to an unvaccinated group. What it means when we say one dose is 50% effective is that if we vaccinate 100 people, 50 percent fewer people will get the disease than if we didn't vaccinate. It doesn't mean that you're halfway protected with one dose, which is a common thing I see the media saying. Moderna actually did study a single dose in about 2,000 patients and showed it may be almost as effective as a boosted dose (around 80%), but that wasn't the trial protocol and it was a small sample, so we don't know for sure. Here is vaccine efficacy is calculated.
So, you may be protected and you may not be if you just get one dose. We don't know if a single dose will affect the amount of time you're immune or not either. The second booster usually boosts those immune memory cells we need to mount a quick response to infection, so it could be that a single dose wouldn't be effective for as long as the boosted doses. Here's an article from the BBC that discusses immunity after one shot and what that means for long term immunity.

Also note that it takes about 14 days for the vaccine to be effective. Our immune system needs time to circulate that wanted poster around. You can get COVID the day you get your booster, even if you're mounting an immune response. That'd be pretty bad timing, but it could happen.
There are some public health experts asking if 50% is enough. Would we better off vaccinating 1000 people and having 500 of them develop immunity or 500 people with 475 people developing immunity (that's not exactly the right figure, but for comparison purposes)? With limited vaccines, 50% might be a better answer. However, we're not just limited by vaccine doses. There are many doses in the USA right now not being utilized because of logistical issues. Public health officials argue that mRNA vaccines can probably be created as fast as they can be utilized, and we should vaccinate based on the actual study data to make sure they are most effective.
We also have to acknowledge that people aren't numbers and some people are at higher risk. Would we want to cover 50% of those high-risk patents so we can cover more that are not at as high risk, or would we rather protect 95% of them and let the others wait? These are complicated questions. The FDA has recommended both doses and so have Pfizer and Moderna.

Another complication for me is vaccine acceptance. If this vaccine fails to curb the pandemic because we mess up and give a single dose that doesn't grant long-lasting immunity, will the public continue to trust vaccines? Vaccines are one of the cheapest and most effective public health interventions we have. If we screw this up, it could have a long-lasting impact on other areas of public health too.
Should I get it if I'm pregnant or lactating? Will it Alter My Fertility?
In short, most experts are recommending you do because you're at higher risk for ill effects from the virus. Here's the American College of Obstetricians and Gynecologists' official statement. That statement has more details about risk groups and timing. This is a decision that should be evaluated individually based on your risks with your obstetrician.
There is a meme going around that the Pfizer package insert (or FDA data, depending on the meme) says that you shouldn't have unprotected sex for 28 days after receiving the vaccine. There is no such warning on the package insert or in any of the data. Phase 3 trials usually try to exclude pregnant women on the onset. It's because we want to cause the least harm if something bad does happen. That being said, 12 patients in the Pfizer study arm became pregnant (11 in the placebo group) with no ill effects. There were 13 pregnancies in the Moderna trial, with 6 in the vaccine group. There have been no safety issues in that group so far.
As mentioned above, another rumor has to do with the spike protein itself. The spike protein is not the same protein as syncytin-1, found in the placenta. They share a few amino acids, but they are different proteins. This is a pretty good debunking of that. This is the same bit of misinformation that people are quoting to say it alters a woman's fertility. There is no evidence of fetal harm or altered fertility (infection with SARS-CoV-2 has been shown to decrease sperm count).
Should I get if it I've had COVID-19?
Yes. You should wait until your acute infection is over, but since we believe that vaccine-mediated-immunity will be stronger than natural immunity, you should still get the vaccine. The CDC is suggesting it's safe to wait 90 days between your COVID-19 disease and your vaccine. The ACIP recommends that vaccination should be deferred until you've recovered from acute illness and you've completed the isolation period. For most people, that's 10 days after the onset of symptoms, provided there's been no fever for at least 24 hours.
If you develop COVID-19 between your first and second dose, there are not currently clear recommendations, but based on the above recommendation, you can get the second dose per the ACIP recommendations above (10 days after the onset of symptoms, provided there's been no fever for at least 24 hours), if it fits your vaccination schedule. If it does not, you can probably get the boost later than scheduled. We don't really know what the vaccine sweet spot is yet, but usually vaccination later the prescribed does trigger boosted immunity in a smiliar way.
A booster is just a second exposure. If you get infected or exposed between the first and the second, theoretically, you're doing the same thing that a "booster" dose would do. You're exposing your immune system to the spike protein again. So, you may not even need a second booster at all. Again, we don't have data on this scenario, but it's an argument by some health professionals.
Does the vaccine increase my risk of HIV?
I've been seeing this one more and more. The short answer is no, the Pfizer or Moderna vaccine do not.

There are two potential sources for this rumor. An abandoned Australian vaccine used two fragments of a protein found in H.I.V. to form part of a molecular "clamp" for their vaccine. When they saw it was causing false positives on HIV tests, they abandoned the vaccine.
There is also some concern that the adenovirus type-5 (Ad5) vectored vaccines may cause an increased risk for HIV infection. This concern was first published in The Lancet by a group of researchers who evaluated an Ad5 vectored HIV-1 vaccine and found an increased risk of HIV-1 acquisition among vaccinated men. Further studies suggested that Ad5-specific CD4 T cells could be more susceptible to HIV infection. However, they haven't seen a signal of this with the SARS-CoV-2 adenovirus vaccines. Those are not approved in the US at this time. The mRNA vaccines do not share this concern.
Can I take the vaccine if I'm blood thinners?
The vaccine screening questionnaires often do ask if you're on blood thinners. This is not because blood thinners are a contraindication of the vaccine. This is because people on blood thinners tend to bleed more when they are given shots of any kind (you probably should be asked this before any vaccine). It's just to give the health care practitioner administering the vaccine a heads up that you may bleed a bit more after they give you your shot, so they can be prepared.
What about satanic genes, microchips, fetal cells, etc?
Get real. None of these things are in the vaccine.