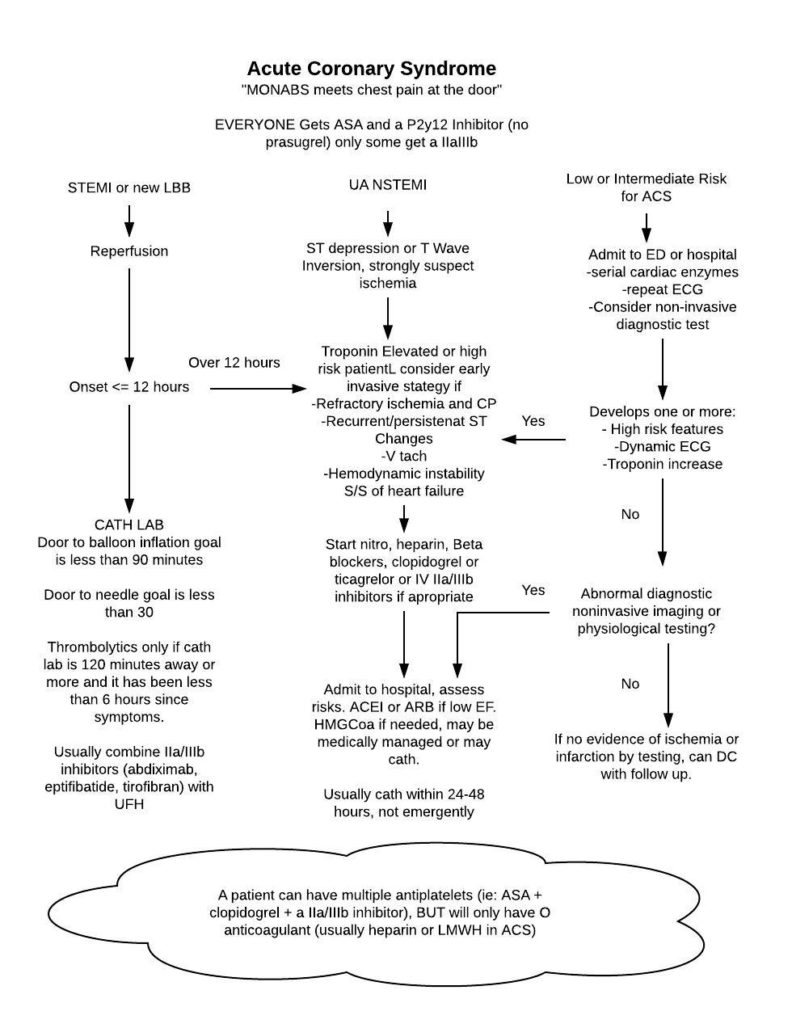 Anticoagulant Overview:
STEMI, PPCI
UHF, bivalirudin
STEMI, fibrinolytic
UHF, enoxaparin, fondaparinux
bivalirudin not studies with lytics
NSTE-ACS, early invasive
enoxaparin, bivalirudin, fondaparinux, UFH
if you're going to cath lab, all
if placing a stent, no fondaparinux
NSTE-ACS, ischemia-guided
enoxaparin, fondaparinux, UFH
Stop heparin after the intervention.
Everyone with ACS gets dual anti-platelets for 12 months, regardless of stent or not.

Usually aspirin + clopidogrel, ticagrelor or prasugrel

Prasugrel has the highest bleeding risk
Clopidogrel has the most drug interactions
Ticagrelor is BID
Prasugrel has a longer surgery hold time
Ticagrelor is a reversible inhibitor
Can only use prasugrel if going for PCI.

Some people also get a glycoprotein IIaIIIb (abciximab, eptifibatide, tirofiban)

In elective caths, a bare-metal stent gets 1 month, a drug-eluting stent gets 6 months.
You can have multiple antiplatelets, but only one anti-coagulant
Heparin: 60 units/kg then 12/units kg
Angiomax: 0.75 mg/kg then 1.75 mg/kg
Cardiac Markers:
Troponin is the primary biomarker used. If a person has negative cardiac enzymes, treatment is not as emergent. They indicate myocardial necrosis. NSTEMI, STEMI or new LBB will usually see elevated enzymes. Obtain enzymes at presentation and 3-6 hours after.
| | | | |
| --- | --- | --- | --- |
| | Initial Rise | Peak | Duration |
| myoglobin (1st to show up, 1st to leave) | 1-2 h | 4-6 h | 24 h |
| CK-M8 | 3-4 h | 12-24 h | 2 days |
| Troponin | 3-6 h | 12-24 h | 7 days |
Remember MONABS meets chest pain at the door for all Acute Coronary Syndrome.
M: Morphine -it may be harmful in ACS. It causes vasodilation, reduces blood volume, preload, blood pressure and can cause reflex tachycardia. It can also make blood thinners work less effectively. It's still often used for acute pain and anxiety.
O: Oxygen if oxygen sat is < 94%, start at 4 L per nasal cannula to keep above 95%
N: Nitro to cause vasodilation, decreases preload and afterload. Recommended for ischemia, heart failure, hypertension or anterior MI. Do not use if hypotensive, bradycardic or tachycardic. No diagnostic value.
A: Aspirin, everyone gets aspirin, decreases all-cause 30-day mortality, add clopidogrel, ticarelor or prasugrel (prasugrel only if straight to PCI) +/- eptifiditide in high risk.
B: Beta blockers
S: Statins
Management After ACS is as easy as ABCDE:
Aspirin, anti-anginals, ACEI/ARB, aldosterone antagonists
Beta blockers, blood pressure
Cholesterol, cigarettes
Diet, diabetes, dual antiplatelet therapy
Excercise, education
Acute Coronary Syndrome can be Divided into STEMI and NSTEMI
NSTE (non ST-segment elevation):
There are two main treatment algorithms for non-stemi
| | |
| --- | --- |
| Ischemia Guided ASA P2Y12 Inhibitors Clopidogrel or ticagrelor only Anticoagulants UFH enoxaparin fondaparinux | Early Invasive ASA P2Y12 Inhibitors Clopidogrel or ticagrelor Can use prasugrel if going to PCI Anticoagulants UFH enoxaparin fondaparinux (not if STEMI) bivalirudin Can consider GPI (eptifibatide, tirofiban, abciximab (no kidney adjustment needed) |
STEMI:
A STEMI usually means immediate angiography unless angiography is not available.
TIMI risk score: predicts mortality. When TIMI score is higher than 3, aggressive treatment like LMWH, GPIIa/IIIb inhibitors and invasive strategies are warranted.
Medium and high-risk patients: aspirin and another platelet inhibitor + ADP inhibitor if going to cath lab (eptifibatide or tirofiban, abciximab can be used if immediately going to cath). Give as close to PCI as possible. If on dialysis can only use abciximab.
High risk: troponin + high TIMI score: give UFH as pre-treatment.
If not planning on cath, aspirin + another platelet inhibitor
Dual antiplatelets for 12 months after stenting. Hold effient for 7 days prior to non-emergent surgery, hold clopidogrel and ticagrelor for 5.
If CABG, stop LMWH 12-24 hours prior to surgery, stop gpIIa/IIIb inhibitors 4 hours prior. Arixtra 24 hours prior.
Anticoagulants are given to all ACS patients in addition to platelet therapy. See chart above.
Fibrinolytics:
Indicated in STEMI when PCI cannot be performed within 120 minutes AND symptoms started within the last 12 hours. Patients should receive anticoagulation for a minimum of 48 hours but up to 8 days or when revascularization is performed with enoxaparin, UHF or fondaparinux. Cath is preferred and has mortality benefits.
Contraindications:
Just remember *****Any blood anywhere, usually only used in stroke****
Relative contraindications (use with caution):

BP > 180/110 – Remember this, but you can treat BP and use lytic.
Ischemic stroke > 3 months before
Major surgery < 3 weeks before
Tramautic or prolonged (> 10 minute) CPR
Internal bleeding within 2-4 weeks.
Active peptic ulcer
Non-compressible vascular puncture
Pregnancy
Known intracranial pathology (like dementia)
Oral anticoagulants

Absolute contraindications (DO NOT USE):

Any prior hemorrhagic stroke
Ischemic stroke within the last 3 months (except past 4.5 hours)
Intracranial neoplasm or arteriovenous malformation
Active internal bleeding
Aortic dissection
Considerable facial trauma or closed-head trauma in past 3 months
Intracranial intraspinal surgery within 2 months
Severe uncontrolled HTN that is not responsive to treatment
For streptokinase, treatment within the past 6 months.

Doses are different in ACS than in stroke.

Alteplase: 15 mg then 0.75 mg/kg over 40 minutes
Reteplase: 10 units, repeat in 30 minutes
Tenectplase: <60 kg – 30 mg IV, 60-69 kg – 35 mg IV, 70-79 kg – 40 mg IV, 80-89 kg – 45 mg IV, greater than 90 kg – 50 mg IV.

Must follow up lytic with anticoagulants: UHF, fondaparinux or enoxaparin.