CHA2DS2-VasC Scoring
CHF or LVEF <40%
| | |
| --- | --- |
| | Points |
| HTN | 1 |
| Age >=75 | 2 |
| Diabetes | 1 |
| Stroke, TIA, thromboembolism | 2 |
| Vascular Disease | 1 |
| Age 65-74 years | 1 |
| Sex female | 1 |
If score is:
0 – Don't need ASA or oral anticoagulant (OAC)
1 – ASA
2+ – OAC
CHA₂DS₂-VASc Score for Atrial Fibrillation Stroke Risk (another way to remember)
Congestive heart failure : + 1
Hypertension: + 1
Age >= 75: +2
Diabetes: +1
Stroke or thromboembolism: +2
Vascular disease: +1
Age 65-74: + 1
Sex Category Female: +1
Is score is 1 – ASA only, if 2 use another agent as follows:
DabigaTran (Pradaxa): 150 mg BID except in CrCl 30-50 or with dronedarone or ketoconazole, liver disease.  Idarucizumab is a reversal agent.  T – direct Thrombin inhibitor.
RivaroXAban (Xarelto) – higher risk of bleeding, 20 mg daily, reduce in renal disease, Xa inhibitor
ApiXAban (Eliquis) – 5 mg daily, reduce in renal disease. Xa inhibitor
Warfarin – more effective than clopidogrel and ASA, but less effective than above and more monitoring.
Drugs for Afib (see antiarrhythmics for more info)
Both the Atrial Fibrillation Follow-up Investigation of Rhythm Management (AFFIRM) and Rate Control vs. Electrical Cardioversion for Persistent Atrial Fibrillation (RACE) studies found no differences in survival between rate control and rhythm control in terms of mortality or morbidity.
Rate control:

esmolol, metoprolol, diltiazem, verapamil
With accessory pathway: amiodarone only
With heart failure: digoxin only
Goal is resting rate of <90

Pharmacological Conversion/Rhythm Control

dofetilide, flecainide, ibutilide, propafenone, amiodarone can be used as pharmacological conversion in afib.
flecainide, propafenone, and sotalol are recommended as first-line therapies in patients with lone AF
hypertensive patients with left ventricular hypertrophy are at an increased risk of torsades de pointes, propafenone and flecainide are suitable choices in the absence of ischemia.
in patients with cardiovascular disease without heart failure, sotalol is the first-line recommendation
in patients with cardiovascular disease with heart failure, amiodarone is the preferred choice, with dofetilide as a reasonable second-line alternative.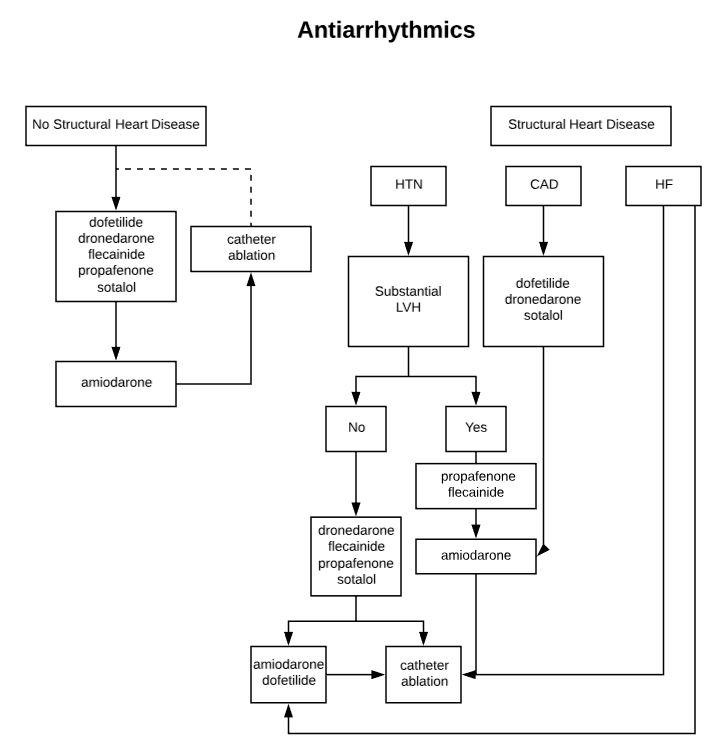 Anticoagulation in afib
For cardioversion:

If stable afib: be therapeutic on warfarin for 3 weeks (which means at goal INR for 3 weeks) before and 4 weeks after cardioversion
If unstable or they've been in afib less than 48 hours, convert and then continue for 4 weeks, INR 2-3 or initiate dabigatran, rivaroxaban or apixaban
TEE Guided conversion > 48 h = LMWH or UFH at the time of TEE, perform and if no thrombus seen, 4 weeks afterward.