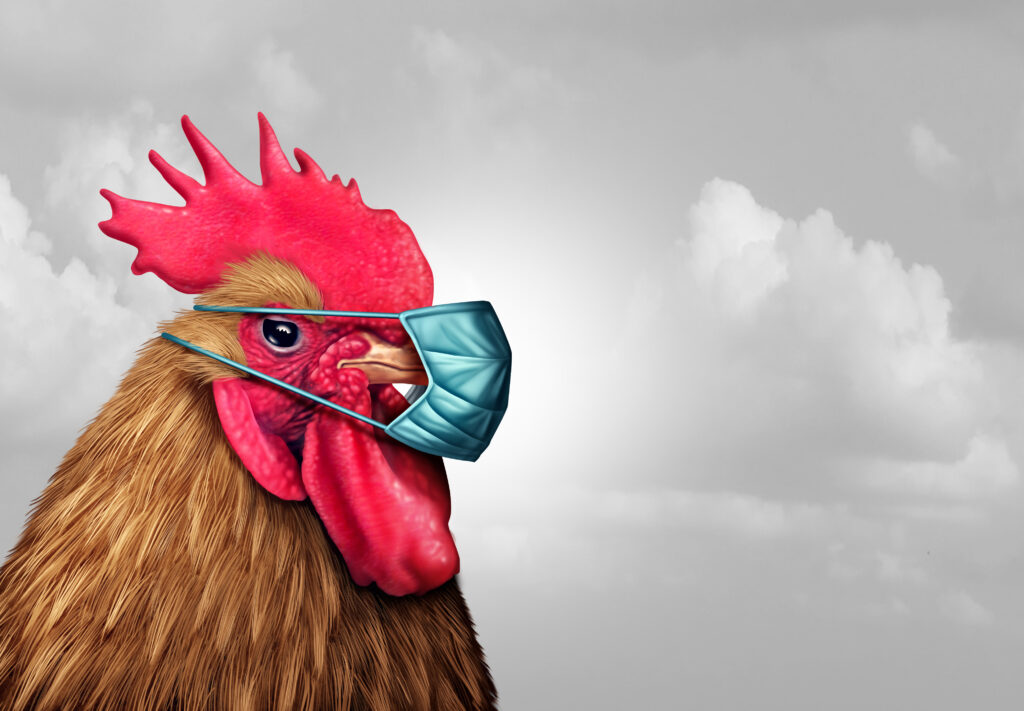 We've had a pandemic, inflation, a war, and now an infectious disease is coming for our food supply. The latest virus on the scene is avian influenza, and it is devastating the United States' chicken supply. Several northern US states have had to cull flocks of poultry due to the virus. Wisconsin culled nearly 3 million chickens. Iowa is the most recently affected state, culling almost a million birds this week. The virus is slowly moving across the US. The World Organisation for Animal Health claims that bird flu has caused the death of more than 300 million birds around the world.
Humans don't have much to worry about unless they really like chicken. The effects of culling flocks of commercial poultry will affect the prices of chicken, but humans are rarely directly affected by avian flu.
So what do you need to know before avian influenza makes it to your town?
What is the bird flu anyway?
Bird flu, or avian influenza, is a group of viruses that mainly affects birds. Avian influenza was first detected in 1878 and is mainly found in native waterfowl. Epidemiologists refer to some strains as "highly pathogenic avian influenza" (HPAI). These strains are highly contagious and deadly to flocks. They can quickly devastate commercial poultry operations. The USDA usually requires commercial operations to cull (kill) entire flocks when HPAI is found.
The virus itself is similar to other flu viruses, but it's specialized for birds. There are four strains that have caused recent outbreaks: H5N1, H7N9, H5N6, and H5N8. There have been a few bird-to-human and human-to-human cases, but not many.
Since these viruses spread fast, the USDA monitors wild birds for them. In January, several hunter-killed wild waterfowl tested positive for H5N1. Today, this strain has been found in other areas across the country, in both wild and captive populations. The USDA has a bird flu tracking site if you want to keep up.
Are all birds equally affected?
Typically, HPAI is found in waterfowl, shorebirds, and commercial poultry including chickens, turkeys, pheasants, quail, ducks, and geese.  Surprisingly, birds of prey are also highly susceptible to some strains, especially H5N1. Bald eagles in Canada and Ohio and a wild hawk in North Carolina died in the most recent outbreak. Most common songbirds and yard birds, like cardinals, robins, sparrows, blue jays, crows, or pigeons, do not seem to get infected or transmit HPAI.  However, sparrows, starlings, and other songbirds are reservoirs for LPAI (low-pathogenic avian influenza), which can mutate into HPAI.
Wild bird populations are natural reservoirs and it is not uncommon for these birds to show no symptoms at all. The first 2022 cases in North Carolina were hunter-harvested and appeared otherwise healthy. The virus was only picked up due to routine screenings. The USDA states that only 15-20% of wild birds will show any clinical symptoms. The poultry industry shoulders the most significant impact of avian influenza. Captive poultry tends to be more symptomatic and, since birds are usually kept in close quarters, transmission between captive birds is swift.
Are humans and other animals affected?
HPAI is adapted to birds, but it can be transmitted to mammals (like humans) in rare cases. When it does infect humans, it can be serious. Mortality rates vary depending on the study and strain involved, but human mortality from H5N1 can be as high as 60%. Luckily, it's not very transmissible to humans.
If humans are exposed to infected birds, feces, feathers, or parts they can become infected. Usually, the viral exposure must be more than someone would get walking in a park or visiting a zoo. Most human cases have been poultry workers or others who routinely handle infected birds and bird parts without proper protective equipment, such as those caring for or harvesting wild fowl.
Avian flu has also been observed in pigs, horses, dogs, cats, and marine mammals. Among mammals, felines are especially affected by H5N1, and it can lead to severe disease and even death. Some cats have been infected by eating raw chicken. Aside from cats, most animals are asymptomatic.
Mammals have not been found to be a significant reservoir for transmission.
How is it spread?
Infected birds shed bird flu virus through their saliva, mucous, and feces.
Human infections with bird flu viruses happen most often after close, prolonged, and unprotected contact with infected birds, especially if the person touches their mouth, eyes, or nose without proper handwashing.
Human-to-human spread is rare but has occurred. For example, in Indonesia in 2006, bird flu spread to eight members of one family.
If infected with HPAI, it's recommended to quarantine from your family and wear a face shield when appropriate, similar to seasonal influenza.
What does a sick bird look like?
If you have chickens, turkeys, or other captive birds, it's imperative to monitor for signs and symptoms of HPAI. Birds may:
Die suddenly for no apparent reason
Drink less water
Lose appetite, energy, and vocalizations
Stop laying eggs
Develop diarrhea
Have a swollen comb, wattles, legs, or head
Cough, sneeze, or develop nasal discharge
Display abnormal behaviors like paralysis or difficulty walking
If any bird in your flock is displaying these behaviors, especially in an area where HPAI has been found, alert the USDA or your local state agricultural office.
What does it look like if I get avian influenza?
In humans, bird flu often looks like the typical flu: fever, chills, and body aches. It also can produce conjunctivitis. It usually takes 3-5 days after exposure to show symptoms. There have been very few instances of bird flu-positive individuals without clinical signs of infection.
Humans can be treated with neuraminidase inhibitors like Tamiflu, the same kind of medication that is used for seasonal influenza. If you have signs and symptoms of bird flu, have had exposure to birds, and are in an area where bird flu has been found, contact your primary care physician. These drugs work better when they are given early.
Does the flu shot / vaccine stop it?
No. HPAI is not affected by the seasonal flu vaccine, but it's a good idea to get it yearly anyway.
What happens if my chickens or other birds get it?
Unfortunately, if a member of a flock tests positive, the entire flock is usually culled. This disease spreads rapidly and is devastating. We must protect our wild bird population and our food supply.
Can I eat eggs and chicken meat?
Eggs and meat are safe if you cook eggs and meat to an internal temperature of 165 degrees Fahrenheit. Avian influenza can be spread via raw meat and eggs. There are a few cases of HPAI transmission from ingesting infected duck or chicken blood. Be sure to clean your counters and practice proper food safety techniques when handling chicken.
What can we do to prevent it?
If you are a captive or exotic bird owner in an area with cases, keep your birds inside if possible.
For commercial husbandry, the USDA recommends wearing protective equipment like masks, gloves, safety glasses, and boot covers and changing those between enclosures. Hand hygiene is also critical. Avoid touching your eyes or mouth until your hands have been washed thoroughly with soap and water. Bird flu can be spread via infected waste, contaminated water, infected bedding, and potentially aerosolized droplets (especially in slaughterhouses). USDA has videos and more specific information on its site.
If you don't work with birds, the best thing you can do is practice proper hand hygiene and avoid direct contact with wild birds, especially waterfowl and shorebirds. Do not touch surfaces that may be contaminated with saliva, mucous, or feces of wild or domestic birds. Be sure to cook your chicken properly and do not offer your pets raw poultry.
Avoid contact with sick or dead birds when possible. If not possible, use proper protective clothing, such as gloves and masks.
People who become sick within 10 days of exposure to infected birds should isolate at home away from their household members until they are proven not to have bird flu virus infection or another transmissible illness. The local or state public health department can assist in monitoring and advising when isolation is no longer required.
What do I do with my bird feeders and baths?
Avian influenza is passed through feces and mucous, so it's possible to be passed through a bird feeder. Yard birds do not usually transmit HPAI (there was one blue jay in Nova Scotia that recently tested positive), however, if they nest around shore birds or water fowl, they can carry it on their bodies and spread it that way. Most experts recommend not doing anything that causes birds to congregate, including placing feeders and baths, during an outbreak. Some US states and provinces in Canada have encouraged removing feeders during spring migration, but the USDA has not officially recommended it.
If you must have bird feeders, be sure to keep them clean and in good repair. Bird feeders should be deep cleaned at least once a month, but clean frequently used bird feeders more often. If you see feces or dirt on the feeder, it needs to be cleaned. At a minimum, you should clean feeders with soap and water. That may not be enough to kill HPAI. According to Public Health New York, bird feeders should be deep cleaned at least once a month. Plastic, metal, and ceramic feeders should be cleaned with a solution of nine parts water to one part bleach. For wooden bird feeders, use a solution of three parts water to one part vinegar or plain, biodegradable soap. Sweep up and throw away droppings and hulls from around the base of the feeders often (at least once a week).
Your birdbath water should be changed every 2-3 days. They should be cleaned with a solution of nine parts water to one part bleach at least once a month. Sweep up and throw away droppings at least once a week.

Do not wash bird feeders or baths in areas where food is to be prepared or where immunocompromised people are present. Do not touch wild birds, living or dead, with your bare hands, and do wash your hands properly with soap and water after handling feeders, birdbaths, or bird droppings. Wear gloves if possible.
Bird baths and feeders can carry a variety of infectious diseases, not just avian influenza. Keeping feeders clean will also help prevent Salmonellosis, Listeria, Trichomoniasis, pigeon paramyxovirus, avian pox, and more.
What happens if H5N1 becomes a human pandemic virus?
The United States federal government maintains a stockpile of vaccines, including vaccines against A(H5N1) and A(H7N9) bird flu viruses. These vaccines could be used if similar viruses were to begin spreading easily from person to person. We aren't sure how well they'd work against a mutated virus, and let's hope we don't need to find out.