Stages of CHF:
Stages of CHF
NYHA Functional Class
A
High risk of heart failure but
no structural disease or
symptoms.
none
B
Structural heart disease but
without signs or symptoms of
HF.
I
Asymptomatic HF. No limitations
in physical activity caused by HF
symptoms.
C
Structural heart disease with
prior or current symptoms of
HF.
I
II
Slight limitation of physical
activity. Asymptomatic at rest
but symptoms with normal level
of activity.
III
Marked limitation in physical
activity because of HF symptoms.
Asymptomatic at rest.
IV
Symptoms even at rest. Unable to
carry out any physical activity.
D
Refractory HF requiring
specialized interventions.
IV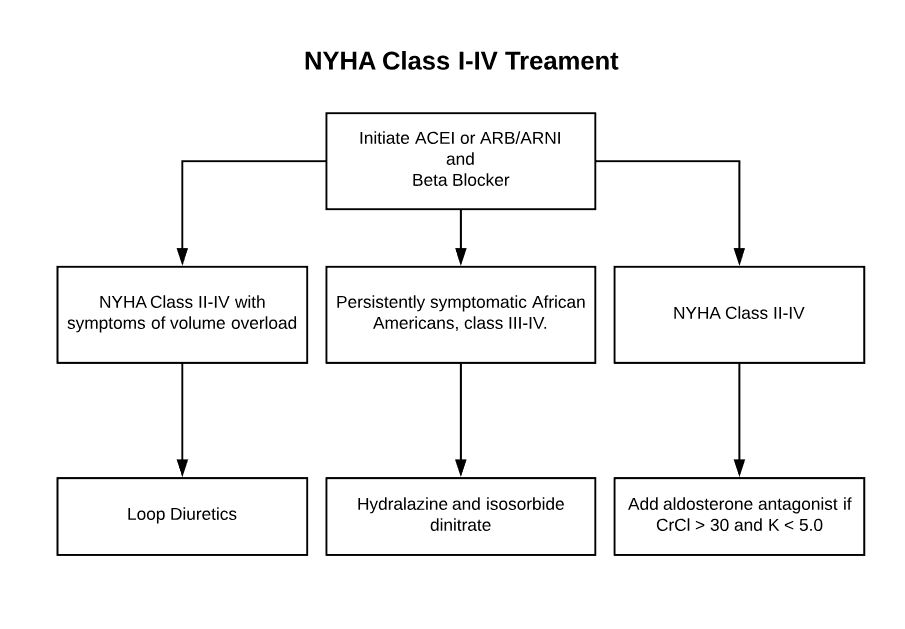 Treatments:
All patients with EF less than 40% get assessed by the five fingers of ABCDE.
ACEI: Everyone gets ACEI or ARB. Proven to decrease mortality and symptoms. Use caution if SBP < 80, SCr > 3 or K > 5.0. Contraindicated in angioedema. Can use ARB in angioedema, but they may also cause so educate patient and use caution. Theoretically, aliskiren should not confer a risk of bradykinin-induced angioedema, because unlike ACE inhibitors, it has no known effect on bradykinin metabolism, however, caution is still recommended.
Beta Blocker: Beta blockers decrease mortality and symptoms. The only ones used for heart failure are bisoprolol, carvedilol and metoprolol SUCCINATE only. Combine with ACEI. If hypotension is a problem, reduce ACEI before beta blocker.
C stages of heart failure (II-IV) may get aldosterone antagonist added to ACEI and Beta blocker, especially with past cardiac hospitalization or increase in BNP or post-acute MI. Do not give if CrCl < 30.
Digoxin can be added for symptoms. It not good at reducing exercise related dyspnea.
Edema and fluid retention can be corrected with diuretics. There is no mortality benefit, but quality of life may improve.
Others:

Hydralazine/isosorbide dinitrate – add to all African Americans with III or IV stage HF>
Sacubitril/valsartan – in stages II or III, replacing ACEI with Entresto can decrease mortality.
Ivabradine – can reduce hospitalization in stages II and III, must be on optimal Beta blocker and have HR > 70 at rest.
Also: be sure to control HTN, counsel on smoking cessation, EtOh abuse, correct thyroid disease and dyslipidemia.
Calcium channel blockers with negative inotropic effects (diltiazem and verapamil) may be harmful.
Meds that Exacerbate CHF:
Thiazolidinediones: rosiglitazone, pioglitazone
TNF- alpha antagonist: infliximab, etanercept
NDHP Calcium Channel Blockers: verapamil, diltiazem
Newly Started Beta Blockers: titrate slowly
NSAIDs/COX-2 Inhibitors: prostaglandin increases renin release, also causes fluid retention
Glucocortocoids: sodium and water retention
Sodium-containing medications: Zosyn, Timentin, Colace, antacids
Itraconazole: cardiovascular toxicity
Doxorubicin: cardiovscular toxcity
Cilostazol: arrhythmias and death